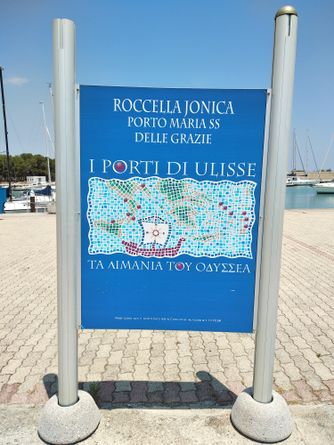 The last days in Greece were something between emotional, stressful and tiring. Emotional as we had to say goodbye to our families, stressful as spare parts needed to arrive in time and tiring cause weather was quietly unstable forcing us to prolong our stays in ports which usually makes all sailors patientless. The blessed morning of June the 20th arrived however and we finally were releasing lines and so it began. With mixed emotions of what you leave behind and what you dream/expect to experience ahead!
     Gods made it clear that we had their blessing as Aeolus favored us with a stable breeze day and night and Poseidon created dream seas for open water sailing standards. We found ourselves relaxing with every mile we covered, breathing freely again and getting into the mood for exploring. Reading a book, watching the horizon and changing shifts with Peter made our 31 hours sailing passage to Italy just a dream sail! We decided to stop over to Roccella Ionica in Calabria as the weather seemed to change radically in Sicily and so it turned out to be a very good call! What initially felt as a weird suspiciously quiet marina, ended up to be a very welcoming place that hosted us for two days. After a very long sleep and some cleaning and maintenance for "my way", we decided to rent electric bikes and discover the small town. That was such a good call, I tell you! The kid inside us woke up, we competed and enjoyed the cool acceleration of these fun bikes, we went up to the Medieval castle which was closed, yet had an excellent view, then run down through the narrow streets, tried local specialties, beers and of course prosecco and enjoyed the welcoming and the amazing service provided from the local businesses. The pizza inside the marina was undoubtedly standing up to its fame and the cycling next to the 2klm+ sandy beaches watching the infinite blue just brought things in order again. This two days stop, was exactly what we both needed to leave back all worries and tiredness and embrace our new adventure with new love, pride and lots of energy to explore! As I was walking to the marina office for the standard paperwork, I run across the stand of the picture. I don't know how this looks to one's eyes but for me, as a Greek, realising I am on the steps of Odysseus made me inevitably think what our adventures will be, how the Gods will treat us, how long this journey will last and if we ever decide to go back to Greece, if my Penelope (country) will still be there, faithful to our ideals and as I left her in one piece and not divided into smaller parts. As "my way" sets sails for new Cyclopes, Circes and Nausicas and we, her crew, embrace the unknown, my fellow countrymen have, as we speak, to go through their own Odyssey, fighting against their own government to protect their own land from their own government (I know how weird that sounds...) so all I can say to them and to me is that we will all united claim our palace in Ithaca as we are the only ones who can stretch this arc. 
        Back to our sailing adventure now, after Roccella Ionica we had an amazing sail up to Reggio Calabria with an unexpected incident in between. With a nice 22 knots wind from behind and the blister already on as well as the mainsail, we had a very nice stable and fast sailing until this minute we heard a sound and witnessed our mainsail dropping down. We looked at each other and realized the pin from the connecting roller of the mainsail halyard was somehow kicked off and as a result, we had now the halyard on the top of the mast and the sail lying lazily in the lazy bag. 
Peter wanted to go up to the mast but as I trust his skills in handling tricky situations it appeared as a much better idea that I would go up to the mast and he would make sure I am safe there while keeping course and making sure the blister stays steady. So, there I am already in the bosuns' chair with Peter checking the lines and the safety knots and passing me on the boat hook to save me the last meter up to the mast. He started winching me up and I tell you if you have waves and wind from 120 degrees it's not fun. Trying to control the movement of my body which was swinging to all directions, I was holding to the rigging, the crosses, the mast whatever was available to hold on, often finding myself hitting left and right with more power one would ask for. Eventually, I was up to the mast at 21m hight and trapped with the hook the halyard and pulled it down. There for a brief second between determination and fear, I had a glimpse around and the beauty was just stunning. Soon, Peter started taking me down following with great care the stop and down orders and before I knew it I was back on deck and the halyard roller pin replaced. Between pride and adrenaline for the nice outcome of our teamwork, we came one step closer and changed course to Messina Straits. A few miles later we found ourselves mooring in Marina Reggio di Calabria, a place that screams a problematic history of earthquakes, bombing and Cosa Nostra recruiting. We were moored from an extremely helpful "ormeggiatore" and run to watch the game Germany VS Sweden. A taxi driver showed up on the second, Saverio, who we would find out later that was quite a character, proud to be mentioned on Rod Heikels pilot books and eager to offer his services. Not only did he take us to a local trattoria with a good environment to watch football but he stayed with us, we enjoyed dinner together, spoke about his trips and loves and introduced us to the local gastronomy. The next morning he came around 8 o'clock just to bring us fresh brioche which we found out later is something he loves to do with all sailors and gave me a ride to his hidden garages where I got to buy cheese, salami and wine of his family production and to see his Cadillac and the old models of FIAT 500. 
We left Reggio Calabria with a warm heart and entered Vibo Marina Stella del Sud 50nm later that day only to meet an amazingly family owned marina, a set of warm eyes to welcome us and a kind smile. 
     We are still here right now as we had to postpone our departure for the Eolian Islands due to thunderstorms. Laid back in a pair of comfortable chairs and enjoying a beer, we made the planning for the next ten days as we need to be in Sardinia by July the 12th for our guests to get onboard where the bookings will keep us busy between Sardinia and Corse up to August. We will sail tomorrow to Stromboli and then Lipari and to Sicily, Cefalu, and Palermo. We will, once we have the chance, pay a visit to the remote villages of Sicily looking for the real remote locals related once with horror stories of the Mafia. 
With love and lots of new stories to narrate to you in the future, we start this amazing season and we are happy to have you all onboard! 
---